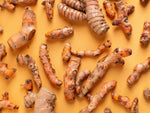 Turmeric is a brightly coloured spice that has risen in popularity as an anti-inflammatory healing agent. It is widely used as a modern curative for many ailments. Before you jump on the bandwagon and include this very orange spice in your dietary intake, it is important you should know the following 5 things about Turmeric.
1. Turmeric Varies in its Percentage of Curcumins 
Turmeric contains biologically active ingredients known as curcuminoids. The most important one of these is curcumin. Some Turmeric supplements do not contain a sufficient amount of curcumins to make it worthwhile to take them. Ideally, you want to purchase a supplement with a 95 percent curcuminoid concentration for the best results. 

2. Turmeric Requires Black Pepper Extract for Absorption 

The human body has difficulty fully absorbing the curcumins contained in Turmeric. If you want to experience the benefits offered by Turmeric supplements, you need to choose one containing black pepper extract. This extract is commonly referred to as piperine. The branded name of it is BioPerine. When this extract is added to a supplement, the body is able to fully absorb Turmeric's curcumins.

3. Turmeric Has a Bitter Taste 
When eaten as freshly prepared root, Turmeric has a strong, bitter taste. Therefore, it is best to chop the root into small pieces. When Turmeric is prepared as a tea, other herbs are typically added to encourage a more pleasant taste. Turmeric capsules and pills are meant to be swallowed whole, avoiding the unpleasantness of a bitter taste.

4. Turmeric Causes Stomach Issues in High Dosages 
It is important to begin your regimen of Turmeric supplements gradually to avoid any stomach problems. Taking too much Turmeric can lead to stomach discomfort, including bloating and flatulence. High doses can also lead to diarrhoea or acid reflux. 

Symptoms vary according to the quality of the supplement as well as its purity. Some manufacturers include additives or cheap fillers to increase the volume of the supplement. In fact, recent studies show that certain overseas manufacturers adulterated their products with lead contamination. Lead is well-documented for causing a variety of maladies, including stomach  cramps, headaches, developmental issues, and vomiting.
5. Turmeric Alleviates Inflammation 
One of the most beneficial qualities of Turmeric is its ability to alleviate inflammation, one of the known causes of various types of pain. When taken in the highest quality and in the proper dosages, Turmeric reduces inflammation in the human body. This capability promotes the use of Turmeric  for the treatment of osteoarthritis, psoriatic arthritis, rheumatoid arthritis, gout, bursitis, and joint sprains.
Turmeric has the ability to alleviate pain and discomfort when taken in the proper dosage. Of course, supplements containing a 95 percent concentration of curcuminoids and black pepper extract often deliver the best results. Be sure to speak with your physician before including Turmeric supplements in your health routines, because it does interact negatively with certain medications. 
However, assuming your one of the many millions worldwide reaping the health benefits of Turmeric then rest assured you've come to the right place! Our off the shelf Turmeric is high quality and extremely affordable. - And if you want something even higher strength then check out our Turmeric Plus.
Turmeric from only £6!