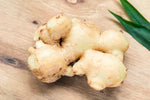 Ginger has a long history of being used in traditional medicine and healing. It is one of the healthiest spices in the world and is used globally in cooking as well as health treatments. Gingerol is the main natural product present in ginger and is responsible for many of its health attributes. Its properties are renowned, from boosting the immune system to treating nausea. See how ginger can benefit your health in these 6 ways. 
1. Ginger has Anti-Inflammatory Properties
Ginger acts as an anti-inflammatory and has been shown to reduce joint pain in osteoarthritis. Root ginger is rich in gingerol-containing oils. By inhibiting the formation of chemical messengers or inflammatory cytokines in the immune system, gingerol seems to reduce the inflammation around joints causing the pain. People with joint and musculoskeletal pain who took ginger extract required fewer analgesics.
2. Ginger is Beneficial in Nausea
One of the more well-known benefits of ginger is the relief of nausea, particularly for travel and sea sickness. Ginger root powder is helpful in people receiving chemotherapy for cancer, as it reduces nausea. Pregnant mothers also found ginger is beneficial for morning sickness; however anyone planning on taking it during pregnancy should check with a doctor or midwife first to ensure it is appropriate.
3. Ginger Boosts the Immune System
The anti-inflammatory and anti-oxidant properties of gingerol mean it is helpful in boosting the immune system. Ginger is effective at warding off some coughs and colds by stimulating the defensive responses in the respiratory mucosa. It can also be mixed with honey to relieve sore throats.
4. Ginger Deals with Gas
If you have digestive problems, ginger is good at relieving gas and sluggish digestion. It helps move food along the digestive tract from the stomach, and helps relieve indigestion. When the digestive tract works efficiently you will experience more energy as sluggish digestion results in tiredness and fatigue.
5. Ginger Reduces the Risk of Heart Disease
The anti-inflammatory properties in ginger have been found to lower cholesterol and blood pressure. Ginger has vasodilatory properties and also contains potassium. Both these help lower blood pressure. Ginger also improves metabolism and insulin control. However, this has to be balanced with eating a healthy diet and doing regular exercise to maintain health.
6. Ginger has Anti-Bacterial Benefits
Ginger has been found to be beneficial in studies researching its effects on infections such as E Coli and drug resistant bacteria. It has also been found to help in inhibiting the bacteria causing gum infections or periodontitis.
Ginger is a versatile spice that has been used for its health benefits since ancient times. It is used in a variety of forms from root ginger to ginger tea and crystallised forms of the spice. Add a little ginger to your diet to see how beneficial it can be.
Shop our 100% natural, vegan friendly Ginger capsules