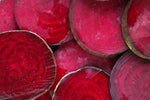 Beetroot Complex® to Manage Blood Pressure the natural way!
Having high blood pressure continues to be a growing problem. Many people are turning to natural remedies to prevent and manage high blood pressure. Beetroot is a root vegetable known for its many health benefits. Beets are high in vitamin C and can help support a healthy immune system. More recently, beetroot juice is gaining popularity because studies have shown that this powerful juice can help to lower blood pressure.
According to research, drinking beetroot juice can significantly reduce overall blood pressure readings. In fact, study results indicate that beetroot juice can be even more effective than some medications in lowering blood pressure. Beetroot juice contains powerful antioxidants known to fight cancer. Beetroot juice also contains nitrates which are naturally-occurring compounds that support an increase in healthy blood flow throughout the body, including the heart and blood vessels.  People who drink beetroot juice often report an increase in their energy levels.
It is true that eating beets in their natural state can be an important part of a healthy diet and help to lower blood pressure.  However, when you juice raw beetroot and drink it, you are ensuring that you get the highest amount of nutrients to help reduce blood pressure. Research shows that drinking 1 or 2 cups of beetroot juice daily can significantly reduce your blood pressure. Beets are known to help detoxify the body, so be sure to start with a lesser amount of beetroot juice each day to give your body a chance to get used to this powerful nutrient-dense food.
There are a couple of things to be aware of if you plan to make beetroot juice a healthy addition to your diet. Beetroot juice is high in the pigment carotene that can cause both the urine and the bowels to have a reddish color. Also, it has an earthy taste that doesn't bode well on the pallet!
That's why we've created Beetroot Complex, an all natural food supplement to provide your body with all the essential benefits of Beetroot in an easy to swallow capsule form! Our Beetroot Complex has been created by master herbalists to ensure it is of the highest quality so you can have 100% confidence in our products.
Beetroot is considered to be one of the best natural treatments for lowering blood pressure. Because of its effectiveness, if you are already taking prescription blood pressure medication, you will want to talk with your doctor if you plan on adding beetroot juice to your regimen. Your doctor may need to adjust your medication as a result of the added benefits of beetroot juice.
Always remember that there is no substitution for a healthy diet, and when addressing blood pressure, eating a variety of healthy foods is important to ensure that you get all the nutrients that your body needs. Along with a healthy diet, getting proper exercise and managing stress are important factors in effectively managing blood pressure. Still, adding beetroot Complex to your diet can be an easy, helpful way of maintaining healthy blood pressure, and supporting overall health and wellness.
We made Beetroot Complex® to get all the benefits of drinking juice without the hassle. Each serving of 3 capsules of Beetroot Complex® is the equivalent of 250ml of fresh juice. We introduce black pepper to help absorption.

Beetroot Complex - only £14 with FREE Delivery!