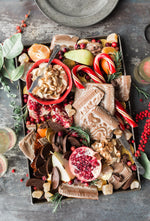 If you want to lose the weight you gained over the Christmas season, it is imperative you take a strategic approach to weight loss. It's not enough to want to lose weight quickly; you must create a detailed plan-of-action if you hope to succeed. Dieters who approach winter weight gain with a weight loss optimization strategy are much likelier to succeed in their goal to shed pounds fast. If you're tired of carrying around extra Christmas holiday pounds, following are three ways to turbocharge your weight loss efforts:
Say Goodbye to White Foods
Remove all white foods from your daily diet and you can almost guarantee weight loss. Stop eating potatoes, rice, and pasta and you'll be amazed how quickly the numbers on your scale start to drop. Removing white foods from your diet isn't easy, but the effort is definitely worthwhile when you notice your clothes starting to get baggy and the weight loss compliments start coming your way.
Time Your Temptations
It's too easy to indulge in sugary sweets during the Christmas season. If you packed on a few extra pounds over the holidays, it might be time to start restricting your intake of sweet treats to specific times of the day. If you're going to indulge in calorie-rich foods, make sure you're enjoying your treat before noon. Stop eating fattening foods before noon and you'll reduce your odds of gaining weight due to late-night snacking. If you want to supercharge your weight loss efforts, stop eating by 6pm and don't eat again until 10am. Using intermittent fasting can help you lose weight faster and can help you feel more in control of your weight loss efforts.
Wash Away the Weight
Increasing your water intake is another easy way to get rid of the extra Christmas pounds. Keep a large pitcher of water on your kitchen countertop and make yourself take a drink each time you pass through your kitchen. Try to empty the pitcher of water before 6pm each night. You'll be amazed how quickly you can start to lose weight just by adding more water to your daily diet.
If you want to lose weight quickly, these three super simple tips can get you started on the path to a slimmer waistline. Focus on becoming healthier instead of worrying about weight loss, and you'll feel more motivated to stick to your diet as you attempt to shed those Christmas holiday pounds.
Still need another way to help maintain weight? Try Slenderize®! 
Slenderize™️ is our all-natural, clinically proven formula to assist weight loss and regulate blood sugar. Our bespoke formula comes in easy to swallow capsule form and has helped thousands of people manage their weight effectively. Slenderize® does not contain any laxatives or stimulants so is safe to take at any time of the day or night.