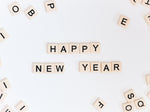 New Year's Day is always a good time for a fresh start and this 2021 is even more so! There is something about bidding goodbye to the previous year and making plans for a better year ahead. If you are planning big changes and making a list of new year's resolutions, you aren't alone. Regardless of the year, New Year's is a great time to reflect and pledge to make changes for a better, more productive, healthier life. 
The tradition of making New Year's resolutions has been around for centuries, and the practice of breaking them has been around just as long.  While most have the best intentions, research has shown that only 12 percent of Americans are able to keep most of their resolutions, and most have been broken within a month. 
Wouldn't it be wonderful to completely change all those bad habits to live the best life possible? It would, but let's take a step back. Taking small steps and making consistent actions to improve is more likely to result in long-term change. 
Here are 5 tips to make a resolution that you will be more likely to stick to throughout the new year.
Start Small - Break big goals into small steps. Small changes over time will help you feel accomplished and more likely that you'll get to that big goal. For instance, if you have never ran in your life but your ultimate goal is to run a marathon, start with a goal to run a mile. Once you've accomplished that, build on it.   
Be specific - What do you want to accomplish? Instead of "I want to lose weight", how much weight do you want to lose, and by when? Five pounds a month would mean 60 pounds in a year. Break that down by weeks and it's about a pound a week. That might be achievable. "I want to eat healthy". What does that mean? Eating more fruits and vegetables, eating less red meat? Start by adding fruit to your lunch or breakfast and swapping in fish or chicken for meat one night a week.    
Be realistic - What is a realistic time frame to accomplish your goal? You most likely won't save 6 months' salary in a month or two so look at all of your expenses and see if there is something you can cut back on to allow you to save an extra $100 a month or an extra $20 a paycheck. If you can, have some money pulled directly from your paycheck and put it right into a savings account so you never see it. It may not seem like a lot at first but check it in 6 months and see how much it has grown.
Write it down - Write your goals down and keep a journal of your progress. If you slip up, see if you can figure out what caused you to get off track. Finding the root of the problem will help you find ways to work around it. If you are used to an afternoon snack and find yourself munching on chips start by asking yourself why you are snacking? Are you hungry, bored or is it a habit? If you are really hungry, is there something else you can snack on in place that would be healthier and fill you up? If you are bored, could you go for a walk instead or find something to do to keep your hands busy and your mind distracted? 
Get a Buddy - having someone hold you accountable often helps. They can be a sounding board for ideas when you are struggling or someone to go out and exercise with. Or hire a professional to help you. A personal trainer, registered dietitian, or counsellor. Someone with expertise who can help guide you and hold you accountable. Sometimes when you pay for something you are more likely to follow through. Take a look at your budget and see what you can do. If it means that much to you, it might be worth paying a little something to get you on track. 
Yes, life can get in the way but taking steady, small steps to improve where you are will help keep you on track and reach the goals you set. Every little step leads to a better you. Once you accomplish that one thing, the motivation to keep going will be there!
Here's to a healthy, happy, and productive new year!
Want to manage your weight this new year? Try Apple Cider Vinegar!
Apple cider vinegar is almost exclusively taken by people who want to shed a few pounds. To avoid the strong acidic taste we have expertly created our Apple Cider Vinegar Complex into capsules. This means you can reap all the benefits but in a form that is much easier to swallow and digest. Our capsules provide nutritional support for dieters and in addition contain Lecithin and Vitamin B6 to help emulsify dietary fat and metabolise protein and lipids. 
Try Now - Apple Cider Vinegar Complex!