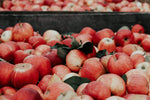 Our 10 top tips for the use of Apple Cider Vinegar!


1. Good for alkalising the body – regular consumption helps regulate your pH level


2. Help to moderate insulin and glucose levels, which means that apple cider vinegar can be beneficial in managing type 2 diabetes


3. Digestive aid – It helps enable the breakdown of fat, which in turn aids the liver and kidneys


4. Clear skin – Apple Cider Vinegar will help lessen oil and help with scarring by acne


5. Freshen Breath – Dilute with water and use as a mouth rinse.


6. Energy boost – Add some to your juice in the morning


7. Detox bath – Add 1 cup of Apple Cider Vinegar to your bath along with ⅓-1 cup of Epsom salts and 5-10 drops essential oils. Adding sea salt, ginger and baking soda are also great options for further detoxification and relaxation.


8. Weight loss – Apple Cider Vinegar suppresses appetite and reduces water retention. Take ½ tablespoon in some fresh lemon water every morning or before meals for best results.


9. Relieves gout – 2/3 tbsp 3 x daily


10. Dandruff – Mix equal parts water/vinegar in a spray bottle and spray on hair after shampoo, let sit for 15 minutes, then rinse. Repeat for a few days until dandruff problem disappears. Repeat once every week or so for maintenance.