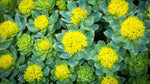 Rhodiola has been identified as an herb that can help to combat depression, reduce fatigue, minimise stress, and improve brain function. New research also suggests that Rhodiola Complex may be able to help with certain types of cancer and diabetes treatment and prevention. 
What is Rhodiola?
Rhodiola is a herb that is grown naturally in the cold across mountain ranges in Asia and Europe. Its active ingredients are found in its root. Various Asian and European cultures have used Rhodiola for centuries to treat psychiatric conditions like anxiety and depression and as a natural energy booster. 
Rhodiola has become more widely used in Western culture as herbal supplements for a variety of benefits. The most impressive fact about Rhodiola is that it has minimal side effects. 
Rhodiola is highly effective in minimising stress, reducing fatigue and helping to achieve a wide variety of exercise and weight loss goals. 
Rhodiola is thought to be an adaptogenic root - meaning that its consumption helps to more easily navigate stressful situations without becoming fatigued or overwhelmed. The National Centre for Biotechnology Information shared research concerning the use of Rhodiola to combat stress related fatigue. Two groups of 30 participants were tested - one with 576mg of Rhodiola extract and the other group with a placebo. The group receiving real Rhodiola extract were all significantly less effected by fatigue than those receiving the placebo. 
NCBI published another study in which 200mg of Rhodiola containing 3% rosavin and 1% salidroside was compared to a placebo and tested for its ability to assist with prolonged energy and stamina during exercise. The results indicated that rhodiola did - in fact - "improve endurance exercise capacity..."
It was actually observed that Rhodiola tends to 'trick' the body into not recognising signs of exertion - allowing one to expend more energy without feeling the immediate effects of fatigue. 
Rhodiola may be a safer and gentler alternative to pharmaceutical antidepressants. 
Depression is a very serious psychiatric condition in which a chemical imbalance causes one to lose interest in everyday things. Many pharmaceutical antidepressants have a long list of side effects and some rather severe withdrawal symptoms. Rhodiola has been identified as safe, and there are a variety of studies indicating that it could be an effective treatment for depression. NCBI conducted a study in which two groups received different amounts of Rhodiola and the third group received a placebo.
Both groups that were receiving Rhodiola experienced a reduction in symptoms of depression, but only the group receiving the higher dosage actually reported an improvement in self-esteem. The group receiving the placebo reported no change in thoughts or moods. 
Rhodiola has been proven to help increase brain power. 
NCBI shared the results of a study that included 56 doctors that worked overnight. The physicians were tested before and after each shift to gauge various cognitive and cerebral functionality, concentration, calculation abilities, short-term memory and associative thinking. After two weeks of consistent treatment with Rhodiola, all of these tests improved. 
Recent studies with mice indicate that Rhodiola may be an effective treatment in diabetes. 
NCBI published a study in October, 2017, that was conducted using mice. The point of the study was to test the efficacy of Rhodiola in the goal of improving β-cell function. They discovered that Rhodiola treatments were highly effective in maintaining healthy β-cell life and functionality and reducing hyperglycaemia and oxidative stress levels. 
While more research still needs to be conducted in humans, these results are very promising. 
Preliminary in vitro studies lead scientists to believe that Rhodiola may be an effective agent in treating various types of cancer and preventing the progression of cancer by blocking the formation of cancerous cells. 
NCBI published a study in which Rhodiola helped to minimise the growth of bladder cancer cells. NCBI published another study showing great promise that the use of salidroside as a chemotherapeutic agent may be effective in treating human colorectal cancer. Another study published by NCBI also had impressive results with Rhodiola killing and preventing the growth of breast cancer cells. 
It's important to remember that all of these studies were all conducted in vitro. That means that they were conducted in a lab in artificial conditions. This does open the door to more information, though, and it provides a concrete rationale to justify conducting in vivo studies with actual cancer patients to test the efficacy of Rhodiola as a treatment for various types of cancer. 
Rhodiola Complex is available via our online shop and as a herbal supplement is generally regarded as safe. 
While more research needs to be conducted on the efficacy of Rhodiola in treating human conditions, one thing has already been established: Rhodiola is regarded as safe by the medical and scientific community. There are no known negative interactions with any other drugs or supplements. If you have questions or concerns about how Rhodiola may affect you, it may be worth taking the time to have a discussion with your doctor.