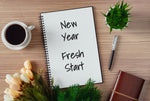 We've finally made it to 2022! After over a year of Covid and lockdown, a lot of us are in the mood to focus on our health and wellbeing in this new year. According to a recent survey, only 12% of Britons decided to make a new year's resolution, and of that 12%, only a quarter succeeded. So how can you lose weight and achieve your goals this year? Here are 5 quick tips to get your health on track and make the most of 2022.
1. Make a schedule
Having a schedule and getting your body into a routine is an amazing way of making sure you're making the most of your time. Having a schedule can:
Relax you

Keep you on track

Minimise distractions
Making a schedule may seem a daunting task but it doesn't have to be. First, take away your time for sleep. The average adult is recommended by the NHS to have between 6 and 9 hours of sleep a night. Ensuring you get sufficient sleep will leave you feeling refreshed and more productive throughout the day, as well as reducing the risk of developing certain diseases. Waking up and going to sleep at the same time every day is a healthy habit to adopt. 
2. Eat in a calorie deficit
Most people will hear calorie deficit and panic. Nobody likes being hungry right? Eating higher volume, lower calorie foods will reduce your daily intake of calories while leaving you feeling full, refreshed and ready to take on the day. Foods like celery, cucumber and tofu are all low in calories and great to fill your plate with. On top of this, Slenderize®, our all-natural, clinically proven formula designed to assist with weight loss and regulate blood sugar is an excellent supplement to take alongside a low calorie diet. Our bespoke formula comes in easy to swallow capsule form and has helped thousands of people manage their weight effectively. Like other soluble fibres, it's believed to promote weight loss in several ways. To list a few:
It's very low in calories.

It takes up space in your stomach and promotes a feeling of fullness (satiety), reducing food intake at a subsequent meal

It delays stomach emptying, contributing to increased satiety 
Eating a low calorie diet alongside our Slenderize® formula is a great way to manage your weight and reach those goals for 2022.
Slenderize® - Clinically Proven Weight Loss
  3. Perform regular exercise
Not only is exercise a great way to burn excess calories, it also elevates your mood and releases endorphins. In case you didn know, endorphins are the 'feel good' chemicals released in your brain. Exercise is a proven method of reducing stress, anxiety and depression. It can also increase your self esteem and boost your confidence. On top of this, it will help you lose weight and get closer to your dream goals. The NHS suggests that "Adults should do some type of physical activity every day. Exercise just once or twice a week can reduce the risk of heart disease or stroke." Spreading your exercise equally is also essential to reduce your risk of injury and fatigue. It's essential to stay hydrated during exercise but also to eat well beforehand. Perhaps try our Electrolyte Complex, designed to enhance exercise performance, reduce stress and anxiety as well as strengthening immunity. 
Electrolyte Complex - stay hydrated and replenished
4. Reduce stress and anxiety
Reducing stress and anxiety is easier said than done. Maintaining a good physical wellbeing is important but your mental health also matters and is often neglected. Staying active, connecting with people and avoiding unhealthy eating habits are all great ways to reduce your stress and anxiety. Having a little "me time" is also important. Finding a hobby that you enjoy and can develop a passion for is a great way to de-stress. Nerve root complex is also a great way to aid and calm nerves. The ingredients in our nerve root complex have been traditionally used to help:
Settle Nerves

Calm Anxiety 

Ease Feelings Of Restless

Calm Irritability 
                   Nerve Root Complex - Calm Nerves & Reduce Anxiety
5. Get someone else involved
One of the best ways to achieve your goals is to get someone else involved. Whether it's family, friends or even your work colleagues, letting someone know what you are up to and letting them know how you are getting on is a great way to help you keep your motivation and self esteem going. 
Finally, How can we help you?

At Twenty First Century Herbs we are dedicated to offering affordable quality products to those that need it. We don't just view herbal remedies as a supplement, but rather as a lifestyle. We have used our collective experience, spanning 85 years, to develop the best natural herbal supplements that treat the most common ailments seen today. We have a range of formulas, designed and proven to aid in weight management. Supplements like our Rhubarb Complex®, Apple Cider Vinegar and Slenderize® are all designed to help you in your journey towards your goals for the new year. From the team at wwwtwentyfirstcenturyherbs.com, we wish you a happy new year.