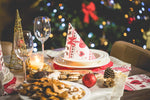 If you're afraid of gaining a few pounds during the winter and festive Christmas season, it pays to make small changes to your daily habits. Instead of worrying you'll have to shed pounds when January rolls around, focus on tweaking your eating and drinking routine during the holiday season. If you want to learn how to reduce weight gain during the holidays, try the following healthy hacks for keeping your waistline in check:
Eliminate carbohydrates

in the evening

. No potatoes, rice, or pasta after lunch. No chips, vegetables, or desserts. Eat only protein after 12 noon and you'll be amazed how easy it is to lose weight. 
Dandelion. Take a good supplement to eliminate excess water and stimulate the liver.
Focus on drinking more fluids from the moment you wake up. Keep a large bottle of water on your kitchen counter and drink a glass of water each time you are in your kitchen. You may spend more time in the bathroom emptying your bladder, but the weight loss you'll experience will be worth it.


Rhubarb Complex®. We hear more and more stories from customers every day about how much weight they have lost whilst taking Rhubarb Complex®. This can happen for a few different reasons including balancing blood sugar and making you more regular. Have a look at our Real Reviews page to see the great results that have been reported.
Replace sweet treats with low-sugar treats instead. Keep a handful of sugar-free sweets in your pocket to soothe your sweet cravings when you're tempted. Be aware that sugar-free treats can sometimes cause gastrointestinal troubles, so don't overindulge in snacks with chemical sweeteners.
Cayenne Complex. This product can help increase metabolism which in turn helps burn those calories!
Increasing your workouts during the holidays is another excellent way to help avoid holiday weight gain. Muscle burns significantly more calories than fat, making weightlifting an excellent option for those wanting to lose weight at Christmas. Something as simple as adding a few arm curls or leg lifts each day can help you feel more in control of your weight loss efforts.
These are just a few of many ways you can learn how to reduce weight gain during the holidays. With dedication and patience, you can lose weight instead of packing on the pounds during the Christmas season.