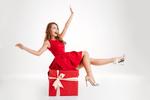 It's never too late to get ready for the festive period by choosing the right supplements to take now!
With party season just around the corner we've created this special blog to give our expert advise and insights into which supplements to take right now, ensuring you fully reap the rewards, not only for Christmas but the entirety of winter.
A clinically proven formula that assists with weight loss to help you reach your goals and fit into that party dress. We started selling Slenderize® earlier this year and it has gained huge popularity and fantastic reviews from those who have successfully managed their weight. 
Okay, so now you know how to manage your weight effectively it's time to move on to the biggest organ.... your skin! Our high quality Hyaluronic Acid & Collagen helps maintain balanced hydration for healthier skin, hair and joints. 
You would be hard pushed to find another supplement that hasn't been talked about as much as Rhubarb Complex®, and the reviews simply speak for themselves. Our award winning formula has been created and passed down by 3 generations of Master Herbalists and remains the core product of Twenty First Century Herbs. If you want a product that really works naturally to give the body a gentle daily detox and relieve IBS, constipation, bloating etc etc....then simply look no further! 
Just about all of us overindulge at this time of year. Parties, the colder months, excess alcohol and just generally feeling a bit down with the dark nights and lack of sun can all mean our livers have a much harder time. Milk Thistle is a great product to start taking now to gently stimulate the liver and help eliminate the daily toxins that can build up.
Following on from above, the darker winter months can lead many to feeling anxious and depressed. Throw in Christmas and all the stress of preparing for the big day and you have a recipe for disaster. We expertly formulated our Nerve Root Complex™ to give holistic support to both the mind and body with its natural ingredients. Again, start taking this supplement today and it will really help you pull through the winter months in a more positive frame of mind.
All of the above would be a bit of a waste of time if you aren't properly rested. Sleep is so important for us and when we're not getting enough it not only has a negative impact on our health, it also affects our physical appearance. Our Sleepyhead Complex® is 100% natural, vegan friendly and gluten free so you can be rest assured (pardon the pun) that your getting quality ingredients for a naturally sound sleep.
 On a final note, the Festive Season is a time for joy and happiness....a moment to pause and reflect on the year you've had and look forward to the even better year you're going to have. - We advocate having fun responsibly and enjoying life to the max. All our products have been designed to fit in with modern busy lifestyles, to bring out the best in us and we only believe in doing this by sourcing natural products that are gluten free and vegan friendly.