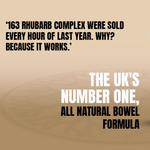 Last year, 163 orders of Rhubarb Complex from Twenty First Herbs were made every hour. That is an incredible amount, but we are far from surprised. Have you seen the reviews for it? There are over SIX THOUSAND five star reviews, making it the number one all-natural bowel formula in the UK.
It is a digestive formula (not a laxative!) that has won awards and is based on more than eighty-five years of clinical expertise. The Rhubarb Complex is formulated to successfully treat digestive disorders, while also gently regulating the bowels and detoxifying the body.
Some of the comments made by satisfied customers include:
"Brilliant for detox and Digestion. My stomach stops bloating. Highly recommended"
"Started with example and immediately ordered more. What a wonderful product"
"At last! After years of struggling with constipation I have finally found a gentle remedy which works. I now know that I will never be without these capsules. Thank you so much!"
"This is the best stuff, I've been using it for a long while now and it does exactly what it says. No bloating, no constipation. When I stop using it I notice the different straightaway, my digestion becomes sluggish and I get bloated and uncomfortable again, but within a couple of days of taking this I'm back to normal again. Wonderful stuff"
Take a look at plenty of other reviews by customers happy with the Rhubarb Complex formula by clicking here.
We have established that people love the Rhubarb Complex from Twenty First Herbs but why?
How can Rhubarb Complex from Twenty First Herbs help you?
Let us take a look at some of the things that Rhubarb Complex can do to help you and why it is the UK's number one, all-natural bowel formula.
Increase Energy

Reduce bloating

Manage weight Loss

Improve Sleep

Combat yeast infections

Improve complexion

Regulate bowel movements

IBS Relief
It is also soy free, gluten free, GMO free, nut free, sugar free and corn free, so the Rhubarb Complex is perfect for those with allergies and intolerances.
Constipation can be alleviated naturally with this gentle solution that is designed to be taken during normal daily activities. You could find that you have to go to the bathroom a bit more frequently during the first couple of days, but this will normalise very fast. Rhubarb Complex can be taken by any of our customers—including ourselves—without causing any kind of interference in their daily lives, whether they are at work, out with friends, or travelling. It is not complicated or difficult to take - simply take one or two capsules just before your evening meal to help relieve bloating, constipation and excessive wind.
Unlike other products that promise to help you with bloating, excess wind and constipation, we do not tell you to folow a strict and often difficult diet while taking Rhubarb Complex. ​​Because our products are intended to help people thrive in the 21st century, an era in which exposure to toxins is virtually inescapable, we do not insist on you following a stringent diet. We know it is difficult, impractical, and often expensive to do this, and we want to make it as easy for possible for you. However, for the best potential outcomes, we recommend that you steer clear of processed meals as much as you possibly can, and that you also limit your consumption of wheat and yeast, as these items tend to be the most significant contributors to digestive issues.


Free delivery on orders over £20
No one wants to be paying more than they need to for a product to help improve their health. That is why our standard delivery service is just £1.95 and our premium delivery service is just £3.95. If you spend more than £20, delivery is FREE!