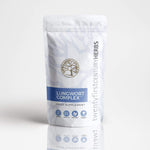 Lungwort Complex™
Lungwort Complex™ is a herbal combination of major plant extracts that possess medicinal effects to treat respiratory problems. The major ingredients in Lungwort Complex™ are the lungwort, coltsfoot, elecampagne, and mullien leaf. Over centuries, people have been using these plants in traditional herbal medicines to cure respiratory problems and other lung-related diseases. 
Lungwort Complex™ is an ideally formulated herbal medicine that works as a respiratory tonic with potent anti-inflammatory and antibacterial effects. The active ingredients of Lungwort Complex™ are used to relieve fluid retention in the lungs, treat lung diseases and relieve associated symptoms such as cough. These ingredients also have a role in eliminating urinary tract infections (UTIs) and improving digestion.
Ingredients of Lungwort ComplexTM 
The four major herbal ingredients in lungwort complex that are used to cure respiratory and other lung-related inflammations are as follow; 
Lungwort is a common herbaceous perennial plant of the pulmonaria genus. It is an herbal remedy that is believed to treat breathing conditions. It treats the conditions like cough, tuberculosis, and pneumonia. It has a wide range of health benefits. The high mucilage content of lungwort is beneficial in respiratory diseases such as asthma and, in particular, chronic bronchitis.
Coltsfoot is a low-growing perennial herb that grows mainly in damp and wet places. The leaves of the coltsfoot contain calcium, sodium, and magnesium. Traditionally it was used as a cure for chest relief. It reduces cough and relaxes dry airways. The mucilage in coltsfoot provides soothing action. Coltsfoot contains a calming expectorant and antispasmodic activity that can help with acute or chronic bronchitis, irritating coughs, whooping cough, asthma, and pulmonary problems.
Elacampagne is a widespread plant of the sunflower family with many health benefits. It has an antimicrobial property that acts against bacterial infection. The roots of the elacampagne contain lactones that have potent antiseptic, healing, and relaxing properties. Elecampane root was a popular remedy for advanced chest illnesses and has a long history of relieving old coughs, particularly TB coughs. It's also commonly used to treat cold, congested diseases, including arthritis, rheumatism, and bronchitis.
Mullien leaf is used to soothe a cough, suppress headaches, and ease lung congestions. The extract of mullien leaf is used as a cure for tuberculosis. This is due to the antibacterial property of the mullien leaf, which is essential to treat respiratory disorders.  Mullien helps you to combat a wide range of respiratory illnesses like cough, asthma, and bronchitis. Mullein's saponins provide its expectorant qualities, making mullein tea an excellent home treatment for flu or a cold with a lot of congestion. It also aids in the reduction of mucus production in the body and the reduction of congestion.
Health Benefits of Lungwort Complex™
Lungwort Complex™ is a traditional herbal medicine with a wide range of possible health benefits. It is mostly used to treat respiratory diseases such as tuberculosis and asthma. It is also used to cure cough, sore throat, and laryngitis.
Curing Respiratory Diseases
Lungwort Complex™ is an excellent choice for phlegmy coughs, mucusy and congested chests. It possesses anti-microbial and anti-inflammatory properties. It supports your immune system in clearing bacterial and viral respiratory infections by reaching deep into the lungs. Lungwort Complex™ is famous for being highly effective in treating major respiratory disorders such as asthma and tuberculosis. These respiratory conditions cause the airway to swell and results in symptoms like shortness of breath, coughing, and wheezing.  Its antibiotic properties help in preventing and treating pulmonary bacterial infections. 
Soothing Irritating Symptoms
Lungwort Complex™ is formulated especially for reducing the symptoms of respiratory disorders by clearing up the bronchial passage. It works as a respiratory aid due to its high mucilage content. Mucilage content coats the throat and soothes the respiratory tract. Cough is the major symptom of respiratory diseases in people suffering from asthma and tuberculosis.  Such people may experience severe coughs with extreme pain in the chest area.  Elecampagne, lungwort, and coltsfoot in Lungwort Complex™ are blended to achieve maximum effectiveness to cure cough and produce a beneficial soothing effect.
Reducing Fluid Retention
Lungwort Complex™ is a natural blend of one of the best herbs that help to ease respiratory spasms, soothes dryness, reduce fluid retention and tightness. Lungwort and mullien leaf are the active ingredients to reduce fluid retention, thus prevent edema. Lungwort Complex™ works by reducing inflammation which results in relaxed respiratory muscles. It acts as an expectorant which means it can expel mucus and open up your respiratory tract. 
Improves Digestion
In addition, Lungwort Complex™ aids digestion and improves digestive ailments. Overall health and well-being of a person depends on the digestive system. If your digestive system efficiently absorbs and distributes essential nutrients, you are more likely to enjoy a healthy life. Many people suffer from digestive issues such as constipation, bloating, and stomach pain. This herbal complex maintains digestive tract health and improves digestive ailments.  
Cures Urinary Tract Infections
Lungwort Complex™ is a blend of certain plant extracts with antibacterial activity that helps to treat urinary tract infections. Urinary tract infections (UTIs) are the most common bacterial infections all around the world. Traditionally, numerous plant species are in use to kill and prevent UTI-causing bacteria. Moreover, Lungwort Complex™ has a diuretic ability due to its natural blend of ingredients. This diuretic ability makes it to treat urinary tract infections and kidney problems. The diuretic effect helps by promoting the production of fluids in the body and results in increased urination. Excessive urination clears up all the toxins and infection-causing bacteria.