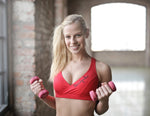 Going to a gym is an excellent way to stay in shape, but if we're honest, it isn't for everyone and during these troubled times it's not even possible!
A gym membership can also cost a lot of money and the pressure to look a certain way or perform to a certain level of athleticism can make you feel uncomfortable, meaning that workouts from home have many benefits.
Here are some tried and tested exciting home workouts to help you to achieve your goals, many of them requiring little to no equipment to get you started. Get your exercise clothes on and get in shape!

Cardio Boxing and Kickboxing
Everyone faces stress in their life, and sometimes it's fun to let it all out in a cardio boxing or kickboxing class. Like many of these workouts, you can easily find a variety of helpful videos online to keep you motivated as you work on your fitness, coordination, strength, and even weight loss goals.

Cardio Dance
Everyone needs a little motivation to meet their exercise goals. One terrific way to keep things fresh, fun, and interesting is to find a great cardio dance class to get your body moving its way to fitness.

There are limitless styles of dance, from Salsa to ballet, and that means you can work on new muscles with every step while improving your balance, agility, and burn a lot of calories along the way.
High-Intensity Interval Training (HIIT)
You don't have a lot of time? Need to burn a lot of calories? Then High-Intensity Interval Training can be your path to successfully working out at home.

HIIT exercises are gaining fame for alternating high-intensity bursts of exercise for up to two minutes with lower intensity movements in between sets. These workouts can be a serious time saver as they can last as short as ten minutes or be extended for longer periods of time if preferred.
Tabata
Much like the HIIT exercise program listed above, Tabata aims to alternate between exercise and rest periods. The difference here is that the bursts of intense exercise are much shorter (30 seconds to 1 minute) and rest periods only last for 10 to 15 seconds. This is a great way to build up endurance if you're interested in taking it to the next level with HIIT programs.

Pilates
High intensity isn't for everyone, at least not in the same way as HIIT and Tabata workouts are concerned. There are other methods for getting in a great workout that provide a calmer approach.

Pilates is a wonderful style of exercise that combines flexibility with core balance and strength to promote an increase of energy, weight loss, with a healthy lean posture. It can even be combined with the other exercises mentioned here to develop a toned body.
Barre
A little bit of this. A little bit of that. If you don't like being tied to one type of exercise, then the Barre workout might be for you.

This hybrid workout features a combination of ballet, dance, Pilates, and more, the Barre workout provides a great deal of benefit for those wanting to have a healthy balance of strength and conditioning.

Using a set of isometric moves that focus on a large number of reps and a small range of motion, a Barre routine can be a great bonus for anyone's workout regimen.

Kettlebell
Unlike the previous options, these last two workouts do require a little bit of equipment, but affordable options can be found, and they don't ask for recurring fees like the gym.

The kettlebell, if you're not familiar, is a cast iron or steel ball with a handle that can be used in a variety of ways to strengthen and tone your muscles. The most popular method may be the kettlebell swing, but there are plenty of ways to work in squats, deadlifts, lunges, and more while increasing flexibility, endurance, and power.

Dumbbells and other Free Weights
Although dumbbells and other forms of free weights might cost a little more at the register, there will always be some who just can't live without them. You'll need a place to store them and a place to use them, but they're terrific for strength training (and even cardio if you have a lighter set).

Choose What Works Best
Some people like a consistent routine, while others prefer a variety of options to pick from as they go along. Working out at home can be just as challenging and rewarding as any gym routine, so think about what piques your interest, then go for it!

Remember, supplements are designed to compliment a balanced lifestyle and healthy diet so we recommend trying out these
immune boosting formulas
, alongside regulars like Rhubarb Complex®.